Share this
Fast-Growing Ngong Town Attracting Nairobians
---
Nairobi residents have been relocating to towns outside the city as reported by the Knight Frank December 2020 report, indicating that the pandemic gave potential buyers time to reflect on purchasing trends.
Buyers thought of how and where they want to live with adequate outdoor space a priority for those looking to own homes or rent houses.
Kibiko, one of the fast-growing towns in Ngong, has witnessed an influx of potential buyers, scouts and developers owing to the development of infrastructure in Kajiado County.
The town lies approximately 4.8 Kilometers South West of Ngong town centre and is located along the new 70 kilometres Ngong-Suswa road.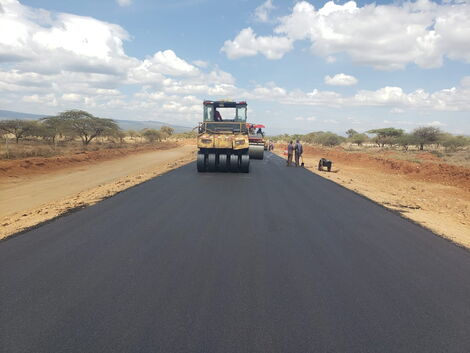 Ngong Suswa Road construction works.
The road has led to the upsurge in shopping centres, residential buildings and commercial properties since construction kicked off in 2018.
Running parallel with the road is the Standard Gauge Railway (SGR) which has a station at Ngong. Kibiko is one of the towns along Kimuka and Nachu which have benefited from the infrastructure.
The Ngong-Suswa road led to the revival of agriculture in Kibiko, with locals focusing on tomatoes and onions large scale production. Underground waters have also expedited the construction of rental and commercial properties.
"This is a magic road to our people. It has brought to an end long-suffering and boosted the region economically. It is a major business artery in Kajiado-Narok economic bloc," Narok Governor Stephen ole Lenku once said of the road expected to be completed towards the end of 2021.
Land broker estimate that an acre along the Ngong-Suswa road trade from Ksh400,000 upwards as compared to Ksh200,000 in 2019. This is quite cheap as compared to Ksh25 million per acre in Ngong town.
Houses on sale in Kibiko range from Ksh7 million up to Ksh16 million. Most of the projects have been tailored to meet the need of individualslooking for family houses rather than apartments. Houses include 3-bedroom, 4-bedroom houses and mansionettes with servant quarters.
Rental houses charge up to Ksh50,000 a month. Most properties also offer car parks and kids playgrounds