Share this
Retired President Daniel Moi after whom the holiday is named

TWITTER
CS Matiang'i asked to declare Moi day public holiday
Interior Cabinet Secretary (CS) Fred Matiang'i has been asked to declare Moi Day a public holiday.
Senior Counsel Paul Muite asked the CS to make the determination as soon as possible to avoid confusion.
"Can the CS in charge, Hon Matiang'i clarify to the Public ASAP whether or not 10th October 2018 will be a Public Holiday to help people to plan," the lawyer stated.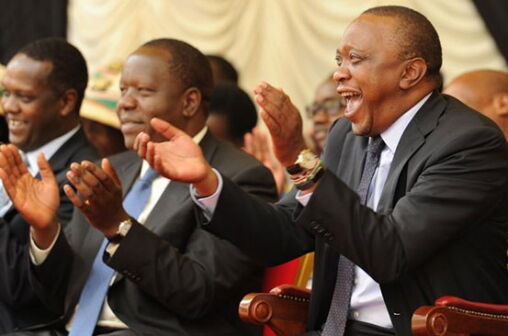 Quoting a ruling made by Justice George Odunga on 6th November 2017, Muite noted that in the light of these orders, there was a confusion on whether or not Moi Day will be celebrated as a holiday or not.
Justice Odunga had noted that the scrapping of the holiday was a contravention of section 2(1) of the Public Holidays Act.
"The order which I hereby grant is a declaration that the omission to have the 10th day of October observed as a public holiday is an illegality," the Judge ruled.
Odunga further stated that the 10th October of each year shall continue being a public holiday unless and until parliament amends schedule 1 of the Public Holidays Act, or the minister substitutes the same for another date.
However, in his decision, the judge said that it is not up to the court to prescribe the manner in which the day is to be celebrated.
Should the government comply with the High Court's order, the Interior CS is supposed to Gazette Wednesday, October 10 as a public holiday.
According to the Public Holidays Act (Cap. 110) (3): "The Minister may at any time if he thinks fit, by notice in the Gazette, declare any day to be a public holiday either in addition to the days mentioned in the Schedule or in substitution for any of those days and either throughout Kenya or in any district, area or part thereof, and thereupon any day so appointed shall be a public holiday in all respects as if it were a day mentioned in the Schedule".
On Monday, Kiambu Principal magistrate Justus Kituku recognized that Moi Day was declared a holiday by High Court in 2017 hence pushing Jacque Maribe's detention days from 10 days to 11 after lawyers pointed out the fact.
Here are more reactions:
MOI DAY: Wednesday, October 10 remains the only public holiday in Kenya where no one knows how its marked. Named in honour of ex-President Daniel Toroitich Arap Moi, the day is supposedly marked by caring for the welfare of the needy in the society. No national festivities marked pic.twitter.com/0tv8IcKTbl

— Consumers Federation of Kenya (Cofek) (@CofekRebranded) October 7, 2018
Fate Of 'Moi Day,' Unknown A Year After Justice Odunga's Landmark Ruling https://t.co/SGblNu3rZw #KahawaTungu pic.twitter.com/j8JZ0ub9Xu

— Robert ALAI, HSC (@RobertAlai) October 1, 2018
#Flashback In November 2017, Justice Odunga reinstated 10th October as Public Holiday. Moi Day is there to stay! pic.twitter.com/Spe8gNoSMk

— Atanasi (@atannasi) October 1, 2018