Share this
NMS Success Linked to Kibaki's Ksh33 Trillion Nairobi Document
The Nairobi Integrated Urban Development Master Plan unveiled by former President Mwai Kibaki in 2008, detailed the current projects being undertaken by the Nairobi Metropolitan Service (NMS).
The document, which included input from the late Minister for Nairobi Metropolitan Development Mutula Kilonzo (Snr) and Raila Odinga, laid out a blueprint for the capital city's development.
"The Nairobi Metro 2030 Strategy is my government's clear response to these realities and challenges. The vision contained in this strategy is focused on turning Nairobi Metropolitan Area into a globally competitive business, industrial and services region," said Kibaki in 2008.
"It is anticipated that Nairobi's transformation over the next 20 years will require investments of about Ksh 33.2 trillion in various programs and projects."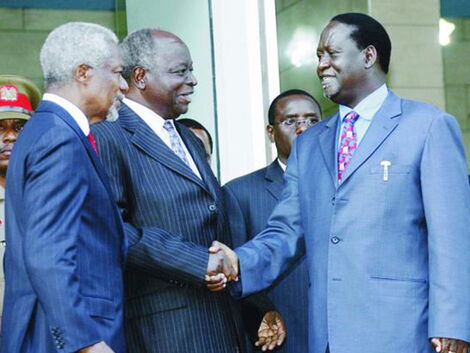 President Mwai Kibaki and Prime Minister Raila Odinga shake hands as Former UN Secretary General applauds in this January 26, 2008
FILE
In the prospectus, public sector investments were to be driven by private sector participation which is the strategy being executed by NMS Director Mohammed Badi.
The county has been developing programs to foster private sector participation in infrastructure investments to help address the funding gap in the sector.
So far, the national government and NMS have earmarked 10 estates in the city for the affordable housing program.
Just as detailed in Kibaki's grand plan 13 years ago, NMS sought to partner with other development institutions including banks, pension funds and schemes, real estate developers, and other investors to help achieve the plan.
Kibaki's proposed Nairobi Metropolitan Region (NMR) comprised 15 independent local authorities.
City Council of Nairobi, Municipal Council of Machakos, Kiambu, Limuru, Mavoko, Ruiru, Thika, Town Council of Ruiru, Kajiado, Karuri, Kikuyu, Tala, County Council of Kiambu, Masaku, and  Kajiado.
Interestingly, NMS's current infrastructural projects are in all 15 areas with the new commuter trains launched in the city traversing all the mentioned towns.
Optimising mobility and accessibility through effective transportation is a key component of the Kibaki document.
The former President also highlighted the need for sufficient housing as high on the list of priorities of projects geared towards turning Nairobi into a major hub in the East and Central African region.
"In Kenya, every shilling invested in housing yields nine more shillings. Based on these estimates, it is clear that improving the housing situation in the metropolitan will yield significant benefits,
"For instance, investing the estimated Ksh3.4 trillion in 2012 to provide housing will have a multiplier of Ksh 30 trillion," reads an excerpt from the document.