Share this
Alfred Mutua Takes on DP Ruto, Shames Him Over Breaking of Covid-19 Rules
Machakos Governor Dr. Alfred Mutua has taken swipes at Deputy President William Ruto, calling him out over alleged breaking of covid-19 rules during his recent political meetings.
Speaking on Thursday morning during Citizen Tv's DayBreak show, Mutua stated that fighting the covid-19 pandemic in Kenya was still complicated since some leaders had deliberately chosen to ignore the health protocols.
While directing his attacks on the DP, Mutua lamented that the second in command, together with his brigade had been conducting church and public gatherings without wearing masks, something that has discouraged Kenyans from following the laid down protocols.
Dr Alfred Mutua is among the only few Kenyan Leaders who are taking William Ruto head on. Mentioning him by name and calling him out for his hypocrisy where necessary.

— Lord Abraham Mutai (@ItsMutai) November 5, 2020
"Politicians are also supposed to wear masks in Kenya but when we see the deputy president and his troops of sycophantic followers not wearing masks in a public gathering what does that tell a young person. If the DP is not wearing a mask and is shaking hands, it means there's nothing to worry about," stated Mutua.
The second-term governor, who has since declared his interests to succeed President Uhuru Kenyatta in 2022, also accused the DP saying he had been shaking hands and coming in contact with his fans without taking into consideration any covid-19 protocols.
"And down the queue, you can see people wearing the masks and when the DP gets to them, he shakes their hands, and as he moves to the next person, the one who was behind, begins to remove their masks. They copy the DP," added Mutua.
Mutua blamed the recklessness and neglect of the Ministry of Health protocols by political leaders on the recent rise in coronavirus in the country.
While cleansing and distancing himself from the mess, Mutua stated that he took the health protocols seriously during his Listening Tours, saying he always had his mask on when engaging Kenyans.
" I made sure people were staying some meters away from me and wearing their masks during our meetings…but despite this, I realized people could always try to come together and even try to get closer, and that is the reason why I suspended my meetings," communicated Mutua.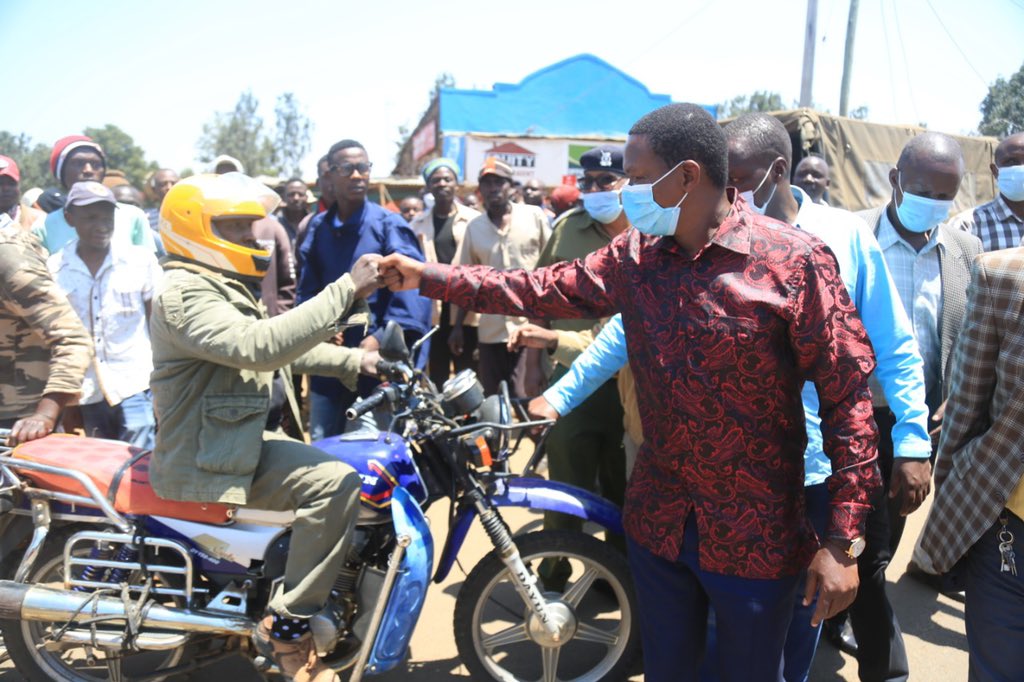 Mutua also admitted that he, as a leader was becoming irresponsible by creating an environment that people were more likely to contract the virus.
"I'm not blaming DP Ruto… but you have not seen President Uhuru Kenyatta, Raila or Mutua on a face-to-face shaking hands & talking to women without masks. Why is he (Ruto) that confident walking around in crowds without a mask?" he posed
At the same time, Mutua urged the head of state to act swiftly, saying if the police are not able to enforce the measures let the President should roll out the military. "Let the military go bar to bar and shut them down. At the end of the day, people are dying and we have to be a country of discipline"