Share this
David Wanjohi holds a cheque written to President Uhuru on April 3rd
Kenyan Man Writes Sh10,500 Personal Check to President Uhuru for CombatingCovid-19
A middle-aged Kenyan man has donated Sh10,500 towards the fight against the coronavirus pandemic in the country.
David Ndung'u Wanjohi, a small-scale business owner, wrote a cheque to President Kenyatta seeking to have the amount put in the national Covid-19 management kitty.
Given that he does not have Kenyatta's bank account, Wanjohi chose to write a bearer's cheque to the president.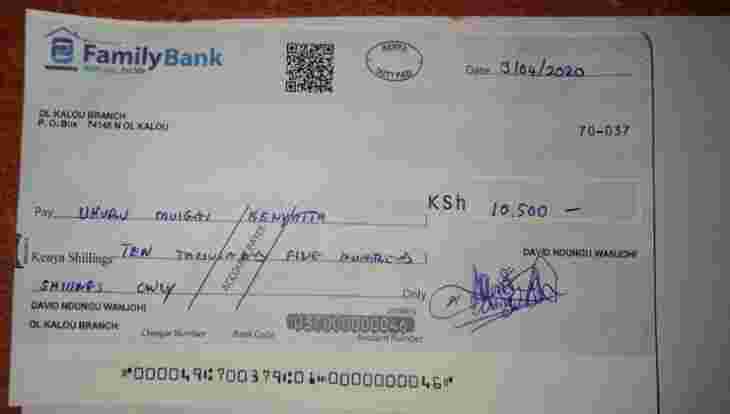 Wanjohi, who operates an electronic shop in Ol Kalou, Nyandarua County, said he arrived at the Sh10,500 figure after calculating the amount of foodstuff five low-income families in Kenya would consume in a month.
He factored in a 90-kg bag of maize, a 45-kg bag of beans, a 50-kg bag of rice, two kgs cooking fat, two bars of soap, salt, tea leaves, 5kgs sugar and Sh1,000 for cooking fuel, all adding up to Sh10,360.
"I wish President Kenyatta receives the money and channels it to the COVID-19 management fund. My action was inspired by the desire to help the Government at a time of crisis such as this one. My thinking is: we shouldn't always wait for the Government to help; where we, as citizens can, we should chip in," Wanjohi told K24 Digital.
The means Wanjohi will use to deliver the cheque to President Uhuru remains unclear.