Share this
Kenyan film school takes on Hollywood for an Oscar
When the Oscar winners are announced this weekend, it won't only be Hollywood superstars who will be waiting anxiously.
There will also be eight graduates from a film college in Kenya nervously awaiting the results.
These graduates of the Africa Digital Media Institute (ADMI) in Nairobi were part of the team making a movie nominated in the category of best short live action film.
The film, called Watu Wote (or All of Us), tells the story of a terror attack on a bus in Kenya by militant group Al-Shabaab in 2015, in which Muslim passengers protected Christians.
Nairobi slum
"I was at work when I got a call telling me we had been nominated," says 22-year-old ADMI graduate Claire Njoki, who helped to design and build the film's set.
"My mum was the first person I told and we cried together. I felt so good that we were able to tell that story about Kenya, it is every filmmaker's dream to reach the Oscars."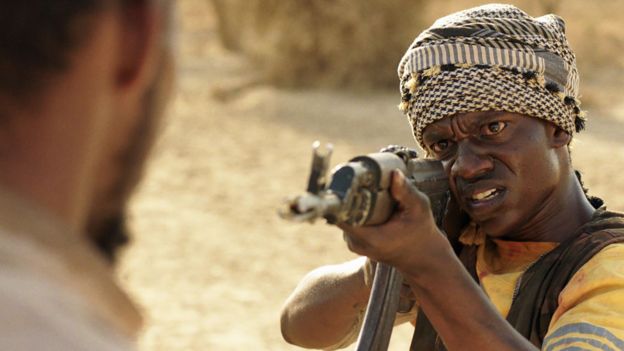 The short history of ADMI could itself be a script for a feelgood film.
The film school's founder, Wilfred Kiumi, grew up in a slum in Nairobi and developed a love of film after his uncle took him to a government-funded cinema.
He worked in a barbershop to make enough money to go to college.
But his ambition was to set up a film school which would give Kenyan students the full range of skills needed to succeed in the industry.
"At first people thought I was joking when I said I was trying to set up a school, but the more I talked to people about it the more they encouraged me and connected me to others who could help," he says.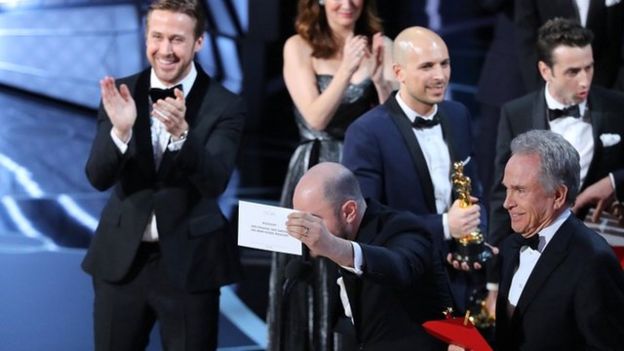 Six years ago this month, the college welcomed its first intake of only five students.
Today, it has 350 students at a purpose-built campus in Narobi's Central Business District, complete with well-stocked graphic design and animation labs, sound studios and post-production labs.
They study a two-year diploma which includes training in film and TV production, graphic design, journalism, sound engineering and animation, and an internship.
Self-reliant
This is a broader curriculum than other film colleges and it is because Wilfred wanted to teach students to "produce, shoot and deliver all by themselves without having to rely on others".
The ADMI's leaders say the nomination for Watu Wote, which involves ADMI graduates and is directed by Katja Benrath of Germany's Hamburg Media School, is a good start.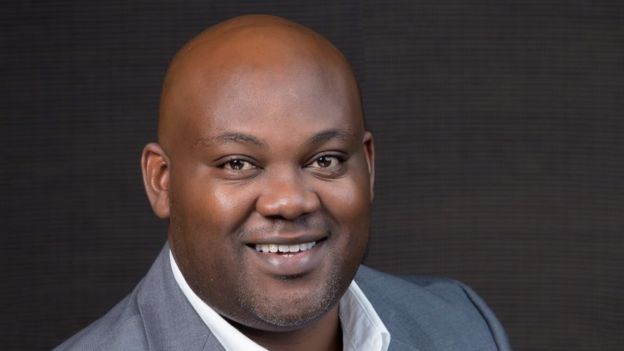 But they have even bigger aims – they want to reclaim Kenyan and African stories so that they are told in film by African directors.
"Almost 90% of the content we consume is from the rest of the world – from Mexican soaps to Malaysian stories to big box office American movies," says Laila Macharia, director of the institute.
"So we aren't even used to seeing our own stories on screen. This is where we can have a great impact on the world, and also on how the world sees Africa.
"The more films we produce, the more people will see the different sides of life in Kenya."
In the future, Claire Njoki wants to stay in Kenya to help grow the film industry and change the perception people have of her country.
"I want to tell more stories from Kenya – good stories, sad stories of humanity and togetherness and love," she said.
"I believe that people in Hollywood are not the only ones who can make good films, we are showing we can make good films so my biggest aim is to stay in Kenya, grow the industry and tell our stories."
Putting Kenya on screen
It's not just about changing perceptions. Wilfred says that developing the film and TV industry could make a huge economic contribution.
"Just one project is able to employ more than 100 people and the trend globally is that film crews are getting larger and big studios are increasing their budgets," he says.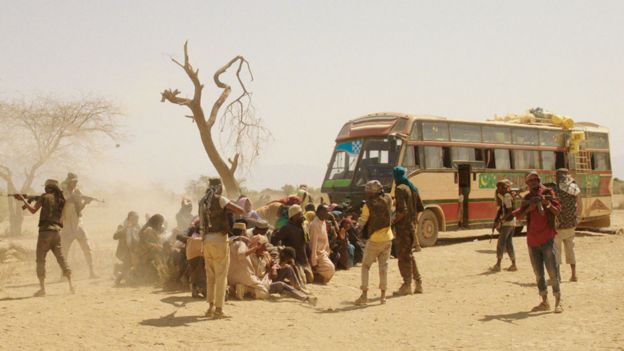 "If we can get our films to a larger market, we are talking many thousands of possible jobs. We have realised we can create content and now we need to learn how to sell it," says Wilfred.
The school has a foundation which funds places for students from low-income backgrounds, and many of its students come from the slums of Nairobi.
"We have a lot of kids from the slums and you see the transformation in one year," says Wilfred.
"They start getting gigs, dressing better, they change and they start hanging out with people who can develop their career."
'Move their parents out of the slums'
But he says it can be difficult to convince parents that their children can make a career from film.
"My mum was the same – she didn't understand why I wanted to make films when I could do accounting instead," he said.
"Parents always ask me if their child will be successful."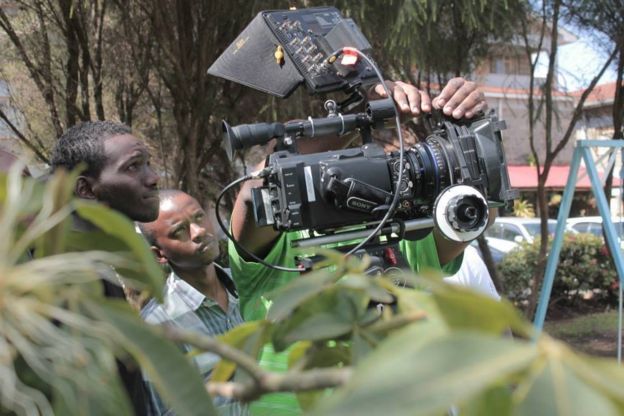 But he is adamant that the success of ADMI's graduates show that working in film can "transform" Kenyans' lives.
"It does pay well and, in future, our students will be able to move their parents out of the slums," he says.
The school is now looking to set up collaborations with other colleges and companies around the world, and to persuade audiences to take a chance on African films.
But until Sunday, they can be forgiven for focusing only on the Oscars.
If Watu Wote wins, expect more tears from Claire and her mum.