Share this
How parents can monitor their child's social media activity
The increased access to the internet by children poses high sexual abuse and exploitation risks to children; this is according to The Department of Children Services. The past few days have seen the Directorate of Criminal Investigations actively cautioning parents against online platforms being used to lure children.
DCI boss George Kinoti's caution comes following the news of seven teenagers reported missing in Nairobi. After they were found, the girls told the police they travelled to Thika, where they had been living with their friends for close to a week. The girl's parents received bashing from the public, most of who questioned the parenting skills, as preliminary investigations on the girls' disappearance showed they left home by consent.
"The DCI wishes to inform the public that we are hunting down members of the cartel and they'll be arrested to answer for their crimes. The DCI further warns parents to take a keen interest in their children's activities at home and on social media networks.
"Preliminary investigations by the DCI have established the girls were lured out of their homes through a social media account named Carty-gang-ent. The cartel has been using internationally-registered telephone numbers, although they operate from Nairobi," cautioned the DCI.
Parents of teenagers currently live in a world that is largely influenced by digital devices and online platforms. With the increase of social media platforms, parents are now faced with the challenge of how to effectively monitor their child's behavior online. To monitor your child's online activity, there are several apps, and parental control options one can consider.
Parental Control Options
Facebook Messenger for kids
Released in 2017 by Facebook, this kid friendly app gives parents a lot more control over the contact list as well as monitor messaged on the app. Messenger inbox is the most likely space where predators can reach the child so parents can be in the know. It does not need a phone number and parents can set usage limits. This app can be downloaded on the Google App store or Apple store for free.
YouTube for kids
As one of the largest streaming platforms, YouTube for kids app allows you to easily control what your kids can view. The app allows you to select an age bracket, which will only display appropriate content according to Google's standards. In case you still find inappropriate content, YouTube allows you to flag and even remove it.
Google Play Store Parental Controls
Turning on parental controls on Google Play Store helps you restrict what content can be downloaded or purchased from Google Play based on maturity level. To set up the parental control, follow these steps;
Open the Play Store app on the device you want parental controls on
In the top left corner, tap Menu Settings. Parental controls.
Turn on Parental Controls.
Create a PIN.
Tap the type of content you want to filter.
Choose how to filter or restrict access.
WhatsApp web
The increase of predators using WhatsApp to lure children has parents concerned. If you want to monitor who your kid communicates with on WhatsApp without touching their phone, use WhatsApp web. You'll first need access to your child's phone and, on the menu, select WhatsApp web. On your computer, google 'WhatsApp Web' and scan the barcode on your computer screen with your child's phone. This will enable you to see in real-time who your child talks to.
Monitoring tools
FamiGuard 
This is one of the top recommended social media monitoring tools for parents. The tool enables you to block social media platforms, games, inappropriate apps, and unsafe websites. Parents can also track the real-time location of their kids and also set the time limit of app usage. It is a paid for app.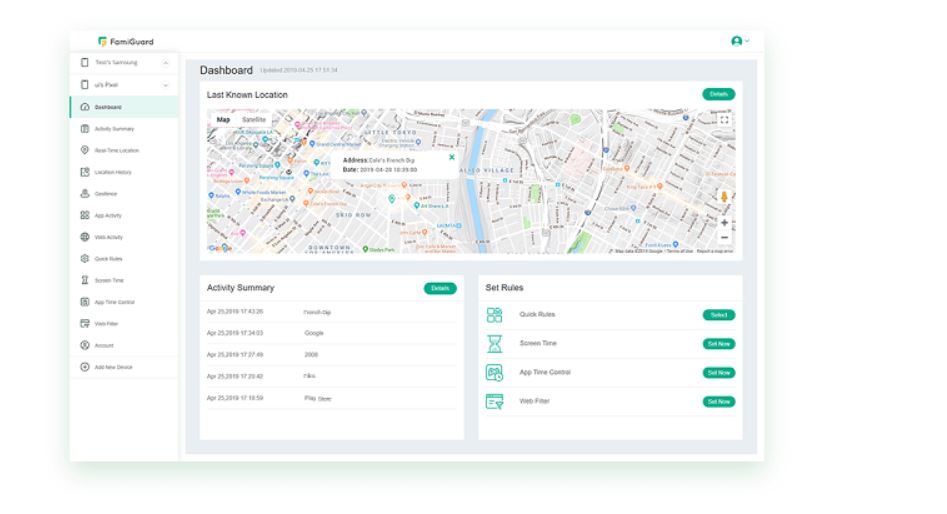 Bark
This application helps you monitors social media platforms, emails, YouTube, apps and texts. Bark also looks for any adult content, cyberbullying, sexting and suicidal thoughts that your child might receive and alerts you if any threat is detected. It includes both the free and premium version.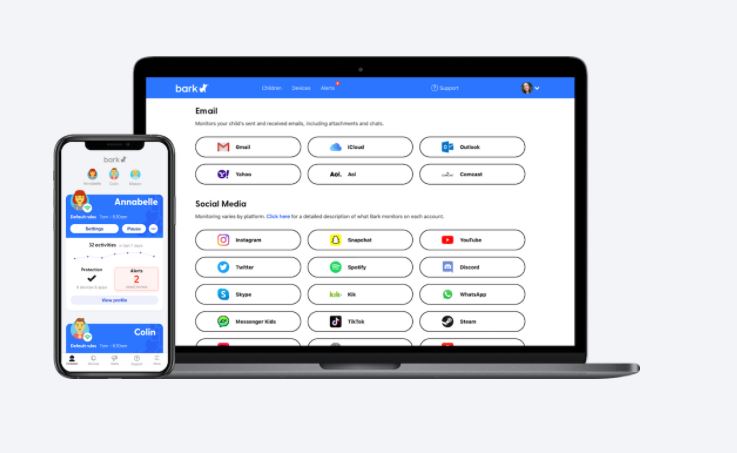 DinnerTime
If your kids don't pay as much attention because they are constantly on their phones, DinnerTime app has the best solution. This app helps parents to lock and unlock the child's phone remotely from their own phones, helping the kids focus on school work, bedtime and dinnertime. The DinnerTime free version only works on two devices, however, the DinnerTime Plus, which costs about Sh400, can work on up to five devices.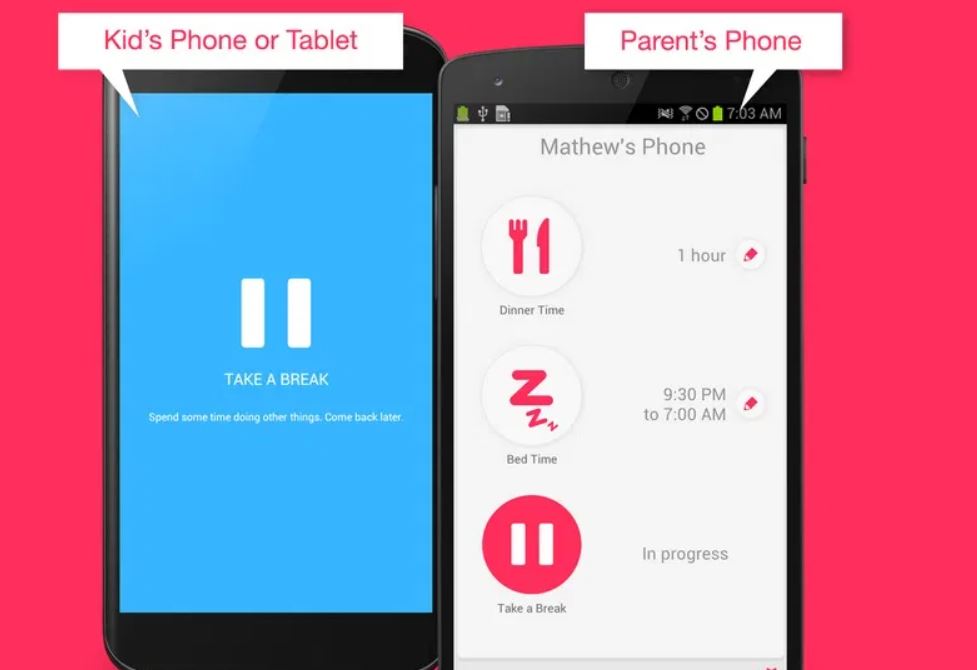 Mama Bear
This app monitors social media and tracks location of your child. MamaBear also helps you build a list of restricted words, making you aware of inappropriate language or signs of bullying on your child's profile. There are various plan options to choose from including a free version.
OurPact
This paid for parental control app allows parents to locate their children and limit screen time by blocking the internet and app access.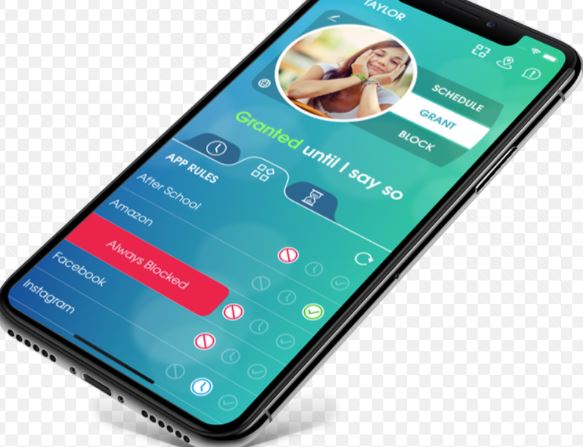 uKnowKids 
It is one of the best Android social media monitoring tools parents can use. It offers plenty of features enabling you to monitor several social media platforms, web browsing, search history, and even text messages. However, this is a paid for app.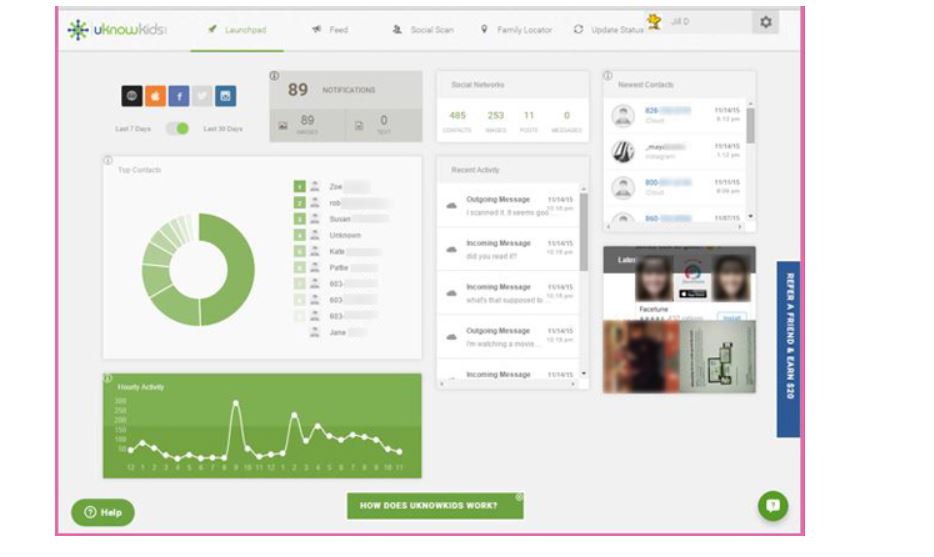 KidLogger
This free app enables parents to track the whereabouts of their kids and the people near them. The app gives you time tracking options, and like uKnowKids, parents can also monitor their child's web history and SMSs