Share this
How Kenyan Desert Transformed to New Investments Worth Billions
---
The potential for economic growth and development in the arid and semi-arid lands of Northern Kenya is finally being realised.
This follows the investment of billions in the regionover the last few years ranging from infrastructure, to new business ventures.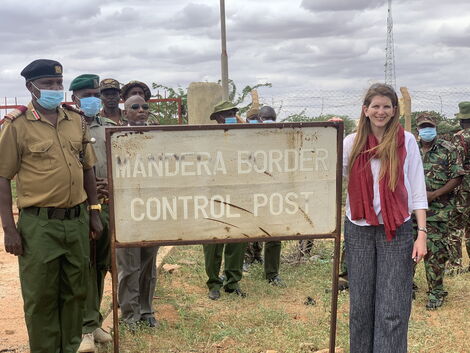 Administration Officers and the UK High Commissioner to Kenya Jane Marriott pictured at the Mandera Border Control Post.
"It is a region of huge potential, of inspiring communities proud of their culture, ambitious for their children's future and tired of feeling marginalised,
"Outcomes in the devolved sector in general, and the health sector in particular, have dramatically," she stated, going on to call for new imaginative solutions to help the youth from the region exploit their potential.
Notably, the UK has been providing support to the North East, both through bilateral projects and as the biggest donor to a Ksh110 billion World Bank programme.
This ties in to the recent government programs that have opened up the arid lands to trade, with the LAPPSET project a key driver.
The northern region of Kenya, plagued with a history of poverty and conflict, is now considered to be the country's new pot of gold after decades of neglect.
There is symbiotic relationship between the New Lamu Port and the ongoing construction of highways stretching from the coastal town to Lokichar in Turkana County.
These highways provide a new corridor to capture imports and exports while also leading to the erection of new stop over towns that have grown into trade hubs with hotels and other social amenities.
The greater benefits from the highway projects worth billions is the socio-economic transformation and opening up of the corridor counties to the rest of Kenya through activities such as trade and tourism.