Share this
President Uhuru Kenyatta meets President of China H.E. Xi Jinping ahead of the inaugural China International Import Expo (CIIE)

TWITTER
China To Help Kenya Join UN Security Council
Foreign Affairs Cabinet Secretary Monica Juma held bilateral talks with her Chinese counterpart and agreed to enhance collaboration on the United Nations Security Council Reforms agenda.
China's support as a permanent member state in the council will go a long way in helping Kenya's push for reforms to give Africa permanent representation in the United Nation Security Council (UNSC).
President Uhuru Kenyatta has in the past called for urgent reforms at the United Nations to ensure Africa is allocated two permanent seats at the Security Council, complete with all attendant rights and prerogatives.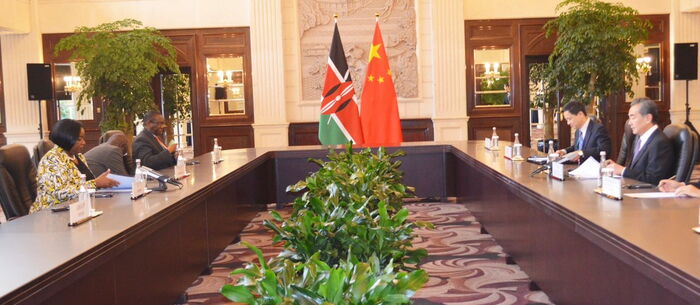 In August 2018, Cabinet approved an application for Kenya to join the council as a permanent member and a campaign strategy to lobby other member countries.
Juma has been quoted stating that the UNSC reforms are imperative for efficiency, transparency, and accountability since 75 percent of the council's agenda is based in Africa.
He was speaking in the UN General Assembly on September when he stated: "As we all know, Africa is under-represented in the non-permanent category of the Security Council and not represented at all in the permanent category."
In the speech that lasted slightly under twenty minutes, the President pointed out that real change at the global body cannot be realized without reforms to the membership of the UN Security Council.
The only countries that have permanent membership in the UNSC include China, France, the United States, Russia, and the United Kingdom.
Uhuru travelled to China on November 3, for the inaugural China International Import Expo (CIIE) at the invitation of President Xi Jinping.
The two leaders held talks geared toward promoting economic and trade exchange and cooperation between the two countries.