Share this
Lecturer Celebrates Graduation With Nairobi Street Children [PHOTOS]
Dr. Hassan Omari, a lecturer, earlier in December graduated with a bachelor's degree in Law – his fourth degree for the University of Nairobi scholar.
Rather than holding an elaborate ceremony with his family and friends, Omari chose to celebrate his achievement with Nairobi street families where he donated food and clothes.
Drawing from his childhood years, the scholar explained to Kenyans.co.ke, that he decided to have the ceremony along Kirinyaga Road to inspire the street families to pursue education.
"I dropped out of school. There is a time in life where I nearly ended up permanently living on the streets when I was a teenager, but a well-wisher took a chance on me and got me back on track," he recalled.
In his early years, he used to live in Mathare slums earning Ksh3,000 as a teacher of religion, Dr. Omari would later go back to school and complete his secondary education in an adult school commonly referred to as 'ngumbaru school' where he sat for his KCSE exam which he passed and proceeded to the university.
Dr. Omari, who holds a PhD in religious studies, noted that his experience made him alive to the fact that street children need someone to listen to them.
"We hired counselors to advise them on their life paths. For the graduation ceremony, we wanted them to see that if someone can choose to change, it is possible for them to pass and they can be anyone they dream of being in society.
"We are trying to get those who want to go back to school," he added.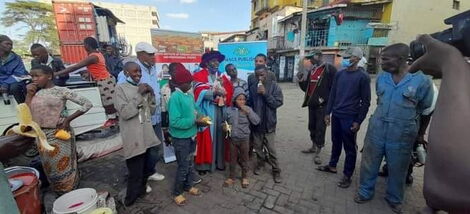 Dr Hassan Omari celebrating his graduation with street children in December 2020.
TWITTER
The UoN lecturer disclosed that he had partnered with various institutions to provide for their transition back to school.
Kenya Institute of Foreign Languages and Professional Studies offered scholarships for those who want to learn technical skills such as mechanical and electrical courses.
At the same time, a publishing firm promised to provide books and stationery for the needy individuals during the period.