Share this
Kenyan Family in the US Wins Hearts AfterDonating Respirators to Local PoliceDepartment
A Kenyan man living in the United States has touched the hearts of many after he donated Covid-19 protective equipment to Paxton Police Department in Paxton, Massachusetts.
Wilson Kiriungi, a resident of Worcester, Massachusetts, delivered a package of 3M particulate respirators to the local police department on Wednesday, April 22nd.
Kiriungi's daughter Alayna, who accompanied him to the department, also delivered a letter of appreciation to the officers for their work.
"Thank you for being heros in our community all the time, but especially now during the coronavirus pandemic. My dad and I want you guys to stay safe and healthy. We hope these masks come in handy and keep you safe through the pandemic." reads the letter.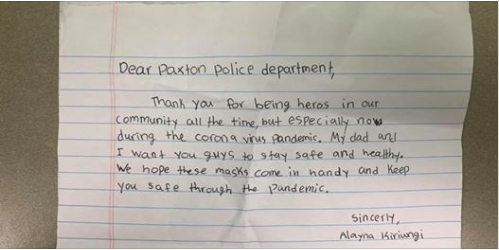 In a statement posted on their official Facebook page, the Paxton Police Department said: "A big thank you to Paxton resident Wilson Kiriungi and his daughter Alayna who generously donated one hundred 3M particulate respirators (and a pretty terrific note from Alayna too) this afternoon. We appreciate your generosity and support."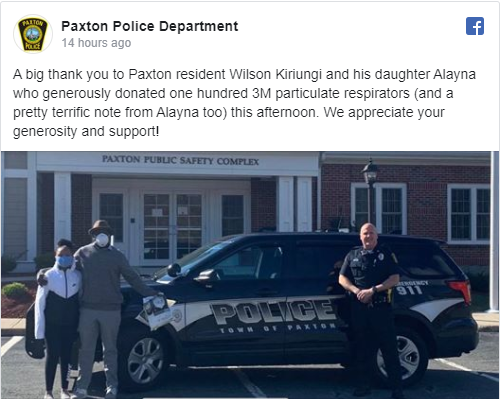 Online users hailed Kiriungi and his daughter for their generosity.
Kim Ferrecchia-Rivas said: "So generous… Thank you to this family."
Kariuki Githinji Wahome noted: "A wonderful gesture brother, you are a real reflection of what dad taught us!!!!"
Monique Wind Sheary wrote: "That's great! And what a nice letter! ☺️❤️."
Karumba Jack said: "That's great bro. A big heart you have."
Margaret Waweru noted: "This is awesome🙏🙏🙏."
Patr Naples said: "Thank you to these kind generous people for keeping our policemen safe. God bless you."
Tracy Kniskern noted: "That's amazing. God bless you all!"