Share this
President Uhuru Kenyatta during the official launch of the Mpesa Foundation Academy

TWITTER
How M-Pesa Foundation Academy is Helping Students Architect a Prosperous and Sustainable Future
Established with a vision of developing transformational leaders through innovative approaches to education, the M-Pesa foundation academy is a haven for the delicate aspirations of Kenyan Students – Dreams of leading the country to a prosperous and sustainable future.
The Thika-based academy serves talented but economically disadvantaged students who have undeniably demonstrated that leadership flows within.
Guided by a 'No student is left behind policy', the school guides all students regardless of their background, nationality or social status to develop mindsets and skills to spur positive change in the society.
The school not only admits children from all backgrounds, it nurtures them building on their tech-savvy nature to solve problems unique to different communities.
As is the case with 16-year-old Catherine Mwai who is living with albinism,the form two student developed an app that is set to change the way people living with albinism go about their business.
With the app- dubbed the albinism app- a person living with albinism is able to know the products to use during sunny days, when to go for check ups or the kind of treatment they should seek at any moment.
"I was motivated to develop this app to help people living with albinism know how to live a healthy life. With this app, they will able to learn on how to live healthy lives since a majority of them do not know how to take care of themselves," she explained in an earlier interview.
Her transformative app won the Technovator challenge in 2018.
The school recently opened its doors to other nationalities enrolling 6 bright refugees from Sudan, South Sudan, DR Congo and Burundi with dreams of gaining a holistic education to put them in a position to bring change in their respective countries.
Among them is 16-year old Reech Deng Maketh whose parents were killed in ongoing war in South Sudan.
He fled to Kakuma refugee camp in North-western Kenya and being the first-born, had to look after his siblings.
Determined though unsure if he would secure a slot to pursue Secondary education, Maketh sat for his KCPE in the camp and scored 312 out of 500 marks in his final Kenya Certificate of Primary Education (KCPE) exams.
He emerged among the 190 pupils selected to join the M-Pesa foundation academy when he applied.
In his words; "After four years here I expect to change my life because I will get good grades and do well and go to University. I would like to become a doctor and go back to help people in South Sudan. Because back home people die from all sorts of ailments."
14-year-old, Cynthia Uwamahoro a refugee from Burundi is another promising student starting at the Academy.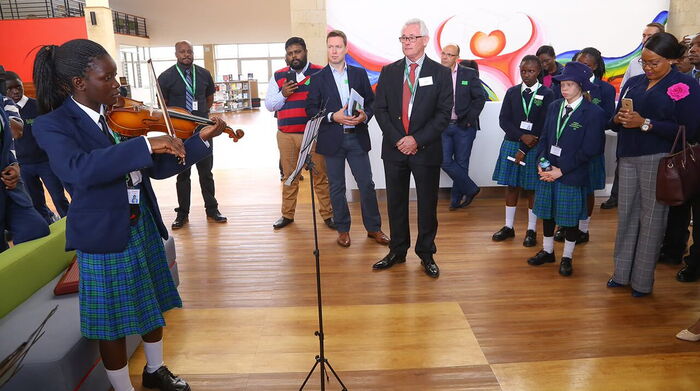 Forced to flee to Kenya with her family in 2015 after war broke out in Burundi, Cynthia enrolled into the Kenyan education system where she learnt English – seeing that she only spoke French.
"I did not give up. My teacher encouraged me to read many English novels and storybooks and I did. That is how I managed to pass with 369 marks out of 500 at primary school. I came for an interview at the M-Pesa Foundation Academy and got a place.
"I am really happy. I am excited about the sports facilities at the Academy. I love volleyball and I am looking forward to playing with other students and doing many other things." the soft-spoken student appreciates.
These type of stories prove beyond reasonable doubt that diversity resides at the academy which main goal is to enrich the students' lives with skills and values that will drive forward the region's development – molding them into strategic thinkers, wilful doers and transformative leaders.